What Is The Role Of The Impeller?
The impeller of a ship is a series of rubber blades shaped around a hub. The hub rotates the flexible blades on an eccentric of the stainless steel lining in the pump casing. An impeller pumps cold water into the ship's engine, keeping it cool while the engine is running. The marine engine is equipped with an impeller in the water pump. The water pump pumps water from outside the ship through a piping system.
The impeller has an inlet that allows water to enter and blades that push the fluid forward. As a rotating part of a centrifugal pump, the impeller accelerates the flow of fluid outward from the center of rotation. This action transfers energy from the pump motor to the water being pumped. The sudden flow of water creates pressure in the pump casing and causes outward movement.
The impeller refers to a wheel disc with moving blades, which is an integral part of the impulse steam turbine rotor and can also refer to the general name of the disc and the rotating blades installed on it.
The impeller is usually cast or welded, and the material is selected according to the working medium.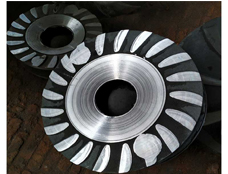 Impeller
The impeller converts the mechanical energy of the prime mover into the static pressure energy and dynamic pressure energy of the working fluid.
An important part of the work of a centrifugal pump is its impeller. Without the impeller, the incoming liquid will not generate centrifugal force. Therefore, without the impeller, the centrifugal pump cannot work. Therefore, it is necessary to properly maintain the impeller of the pump to prevent the pump from stopping and ensure the maximum length of the pump's continuous operation. The three most common causes of impeller failure are cavitation, erosion, and corrosion.
The impeller pumps cold water into your boat's engine, cooling it while in use. If you have a bad impeller, it will cause big problems.
We are impeller suppliers. Please feel free to contact us if you are interested in our products.